Q5 Dual Resistance Rower
Standing Integrated Water tank Design
Dual Resistance System
Automatic and Intelligent
Ergonomics Design
Lifetime MERACH Membership
High-quality Material
$100 OFF Code:
BlackFriday100
Eligible for Free Shipping.
Eligible for Free Shipping.
"Shipping Policy:

Free Shipping Within the Continental United States.

(Please note that certain remote areas may not be serviceable.)

Order Processing Time: 1-3 business days

Estimated Shipping Time: 5-7 business days

Please be aware that during holidays or peak periods, both order processing and shipping times may be subject to extension. For comprehensive information, please visit our dedicated shipping page:

Shipping Policy
Eligible for 30-Day Money Back.
Eligible for 30-Day Money Back.
We have complete confidence in our product, and to show our commitment, we offer a 30-day Home Trial money-back guarantee.
To find out more about eligible purchases and the specific terms of our 30-Day Home Trial, please review our comprehensive Terms and Conditions.
For details on our return policy, please visit: Return Policy
If you have questions regarding our product warranty, please refer to this link: Warranty Information."
Eligible for 2 Years Warranty.
Eligible for 2 Years Warranty.
We proudly offer a 365-day quality guarantee, providing you with peace of mind.
As a special benefit, when you become a registered member, you can enjoy an additional one-year warranty.
To take advantage of this offer, please click on the following link to register: Register Here
Subscribe to the MERACH APP for free and HIIT your goals with fun!
Road to Thrive
Embark on a Novel and Exhilarating Journey
Bring Nature Indoors
Interactive Scenic Videos for lmmersive Home Workouts. Home Fitness Escapes: Explore.Move, Thrive
950 Dual resistance Wood Rower
$699.99 USD
Q5 Dual Resistance Rower
$549.99USD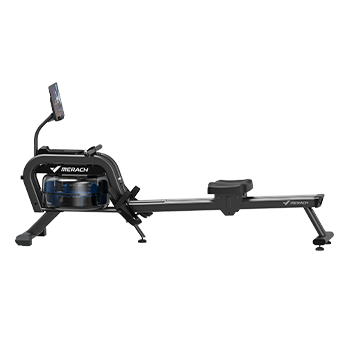 R06 Water Magnetic Rower
$439.99 USD
Resistance Mechanism
Water and Magnetic Resistance
Water and Magnetic Resistance
Water and Magnetic Resistance
Supported Apps
Resistance Adjustment
Resistance Adjustment
Resistance Adjustment
Resistance Adjustment
Electronic
Electronic
Electronic
Automatic Resistance Adjustment
YES
YES
YES
Weight Capacity
350 Ibs
350 Ibs
350 Ibs
Recommended User Height
6' 7"
6' 7"
6' 7"
Frame Material
Oak Wood. ABS
ABS,Q15 StainlessSteel and Aluminum
ABS, Stainless Steel and Aluminum
Reason for Choosing
Drawer-style folding.wooden texture, unique design
Unique design, high-quality steelmaterial, suitable for intense workouts
Better cost-effectivenes
Great company to deal with, very good mid priced rower.
We are very please with our Q5 Dual Resistance Rower. The rower shipped quickly. The packaging was very good. Assembly was easy using the instructions. I've had an original Water Rower and this rower feels as sturdy. I was happy to get the mini massager too. I've contacted the company twice and have gotten very quick responses. I would highly recommend this company and this rower for a mid priced rower.
Great machine
I received the machine and was amazed at how well it was packaged. With bolts, tools and parts mapped out on the package itself, assembly was easy. I am really enjoying the workouts. The dual resistance is great, I get the proper tension and a soothing sound of water. I love the machine and will recommend it.
Good simple rowing machine
Assembly was very easy and the instructions were easy to follow. All tools for assembly were included and assembly took around 30-40 minutes. I like the simplicity of the machine and that I can store it upright when not in use, that was a big perk to me about this machine because we were limited on space for another exercise machine. It is easy to adjust the resistance and the weight capacity is good on it. My husband is 6'1", 255lbs and he has been using it daily and it feels solid. I will update this if that changes or we have any issues with it, but so far we are pleased with it.
Wish I could 4.5 stars because of 3 issues
This was fairly easy to put together with the tools and part included. I got help to slide it out of the box, but that was more for convenience. The rest I did by myself while half watching TV.
The seat seems like it would be uncomfortable, but it is not so far.
The foot rests look kind of cheapish, but are actually really nice because of the extra width and the straps work well.
It comes with batteries for digital monitor that shows your calories, elapsed time, current count, total count. You cannot change the units. It will cycle through everything every few seconds unless you set it to only show one stat. You can reset the stats at will.
The flywheel is super smooth and quiet, the seat slides super quiet and smooth as well. I haven't had an issue yet, but the directions say if it starts to squeak, you can put car polishing wax on the belt to fix that.
It supports people from 4 foot 11 inches up to people 6 foot 7 inches tall and weighing up to 350 pounds (about 159 kg if my math is right) I'm on the shorter end of the range and my husband on the taller end and we both can use it comfortably to a full range of motion.
It's easy to turn the knob and change the resistance (and see what you have it set at)
It is easy to lift and stand up to save space and safely set back down to use. It ways right at 50 pounds, but with the leverage you get from the way it's made, it's easy to lift the back end and push into upright position and lower again.
A note: I've used rowers at the gym that had a different mechanism and felt more like real rowing in water. This one isn't like that. It does, however, have a really great feel and range of motion and it a good option if you don't have high-end rower in your budget.
MY 3 ISSUES: (aka, why I would knock off 1/2 a star if I could)
1. The manual says the digital monitor will turn itself off after 4 minutes of inactivity. Mine turns off after 1 minute and 10 seconds. I timed it. I find this highly annoying and will only rely on the total count number to log my progress. I'll use my phone for the elapsed time. (it comes with a lip to hold your phone or tablet) An option is to pull the handle every minute or so to keep it active. But again, annoying. I have googled and read the manual but can find no way to make it wait as long as the manual says it should. In case it's not clear, when it shuts off after 1 minute 10 seconds, it resets your progress, losing everything except the total count. I believe that will reset when the batteries are changed.
2. It has bluetooth built in and can connect to two available apps. (their own Merach app and Kinomap) These apps may solve my annoyance in #1, but both of these apps require subscriptions that cost money. It is annoying to pay money to be able to pause for up to 4 minutes without a reset. Plus I prefer to listen to books or videos when I work out, so I don't need all the things these apps offer and they only seem to offer free trials and not a free level with the bare minimum (like mapmyrun does)
3. The resistance could be better. It goes from 1 to 16 and I feel like it could start at whatever resistance 8 is. The first several almost feel like zero. So far we are keeping it cranked up to 10+ for enough resistance. I'm putting this on the minor side because I have been rowing for a while on a different rower style (a Sunny with a bar instead of a belt for rowing) and I may not be able to judge the lower resistance appropriately for beginners.
Love this rower!
?This was easy to put together, just a couple of steps. It was lighter than I thought it would be. I've used them a lot at my gym, this one is a tad bit shorter, not an issue for me because I'm only 5'2", stores VERY easy. I would highly recommend this rower. I haven't used the Bluetooth yet, I lol connect it to my Kinomap app later. If I have any issues I'll make sure to revise this review.